NEWS/SPECIAL EVENTS

May 1-31, 2020

KCSA facilities are CLOSED until further notice.

This means the Wareham's Pond Recreation Center is not available for Sunday services nor the Men's Bible Study on
Monday mornings. In addition, President Trump has set the national policy for travel, outings, and meetings to no
more than ten people.

===> We must cancel our regular Sunday services and Men's and Ladies' Bible Studies for the foreseeable future.

In lieu of the usual Sunday service, we are using the ZOOM video meeting app to conduct an online Sunday service
at 10:00 a.m. The Pastor will prepare a recorded Sunday sermon, and the ZOOM video will be posted to this website
in a timely manner, hopefully before the end of each Sunday. Merely left-click on the "Sermons" tab at
www.chapelatkingsmill.org to select the date of the sermon you wish to play.

If you wish to join in on the Sunday video sermon using Zoom, contact Bill Amos by phone at 757-345-2463 or by
email at bamos@cox.net no later than the Saturday before the video sermon on Sunday, 100:00 a.m.

Effective May 18, 2020, a ZOOM video of the Men's Bible Study may be accessed from this web page. Select the date of interest associated with a Men's Bible Study meeting, and click on the underscored text for that date. The video will begin
playing.

● March 22, 2020
The first sermon posted during this nationwide time of medical emergency is found at the Sermons tab, entitled
"1st Peter-The View from Mount Perspective."

An outline of prayerful topics, related to today's sermon, is found at the Encouragement tab. The title is "Covid
Spiritual Warfare Prayer, 20 Ways to Pray." This information suggests the many areas of the virus dilemma that need
our fervent prayer. As you read, consider the affect on untold thousands of people in our country - in the world -
and the impact this scourge has had on humanity. Our prayers will help us and others get through these difficult
times.

The Sentara Healthcare System has provided this simple self-check chart to help people evaluate their own
health symptoms before leaving their homes.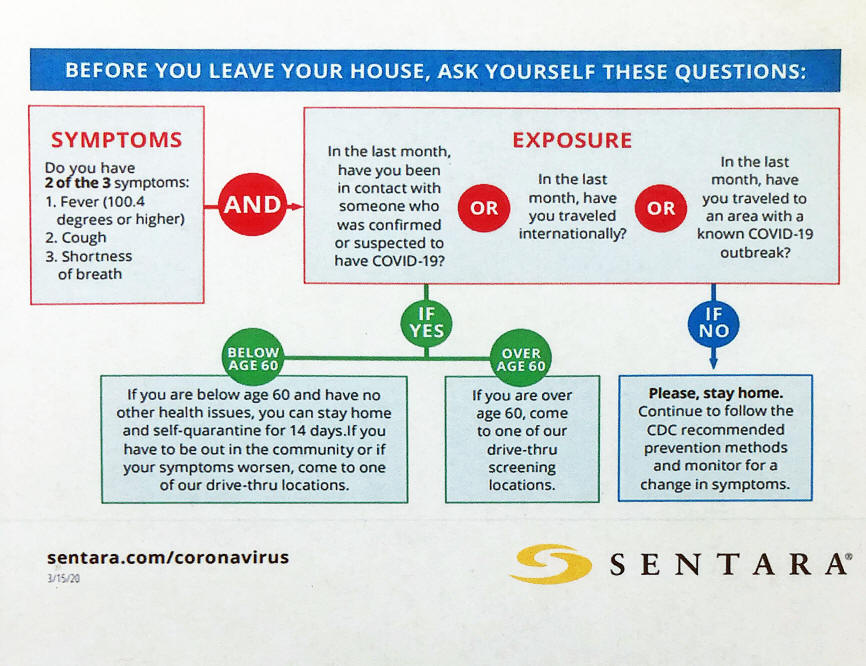 ● March 29, 2020
The first ZOOM video sermon is posted under the date of March 29 with the title "Love One Another (Via Zoom)".

We anticipate that the many restrictions of the past few weeks will continue through the coming weeks, months
in fact. Additional recorded video messages will be posted during this restricted period. (As we adjust to ZOOM
and video meetings on the Internet, there may be occasional technical problems.)

● April 5, 2020
This week's ZOOM video sermon is posted under the date of April 5 with the title "Trust God for Peace (Via Zoom)".


● April 12, 2020
This week's ZOOM video sermon for Easter is posted under the date of April 12 with the title
"Easter Sunday (Via Zoom)".


● April 19, 2020
This week's ZOOM video sermon is posted under the date of April 19 with the title
"This Is Not Our Home (Via Zoom)".

● April 26, 2020
This week's ZOOM video sermon is posted under the date of April 26 with the title
"Suffering for Our Faith (Via Zoom)".

● May 3, 2020
This week's ZOOM video sermon is posted under the date of May 3 with the title
"Leadership (Via Zoom)".

● May 10, 2020
This week's ZOOM video sermon is posted under the date of May 10 with the title
"Mothers (Via Zoom)".

● May 17, 2020
This week's ZOOM video sermon is posted under the date of May 17 with the title
"1st Peter: Satan, the Spiritual Enemy (Via Zoom)".

● May 18, 2020
Men's Bible Study-Job (Zoom)

● May 24, 2020
This week's ZOOM video sermon is posted under the date of May 24 with the title
"Reflections on COVID-19 (Via Zoom)".






Return to the Top of the Page